Product
Software
WinCT-ParamSet

(Freeware)
This software, "Windows Communication Tools for Parameter Setting" ("WinCT- ParamSet"), can change the internal settings of A&D electronic balances on a PC.


Instruction manual (PDF 1MB)

Setup manual (PDF 164KB)

Features of WinCT-ParamSet
The ID number and internal settings data can be read from the balance and changed all at once.
The settings can be saved in CSV file format.
The saved CSV file can be read and the settings written to the balance.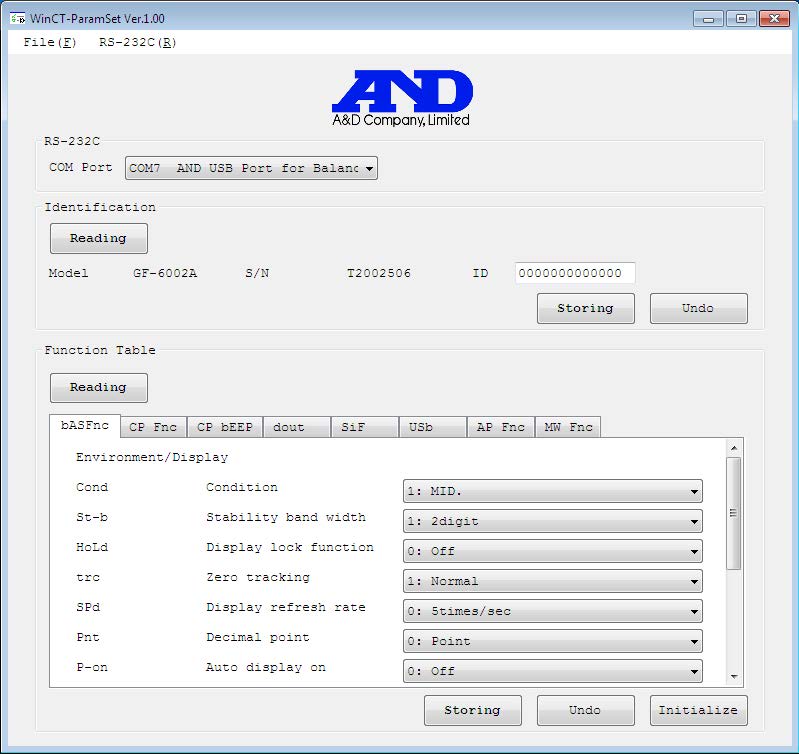 Caution
Except for the ID settings, settings that require numerical input (eg: unit mass setting for piece counting, etc.) cannot be set with this software. Use the keys on the balance to set.
This software cannot be used when the password lock function of the balance is enabled. Also, it cannot be used to change from disabled to enabled. Use the keys on the balance to set the password lock function.
When writing the settings from a saved CSV file, the software version of the balance described in the CSV file must match the software version of the balance it will be written to.

Compatible weighing instruments
Weighing instrument
Model
Software Version
Precision balances
GX-AE/GX-A/GF-A series
1.400 or later
FZ-i/FX-i series
4.310 or later