Product
Test and Measurement
Portable Data Acquisition System OmnilightⅡ RM1100 Series
Powerful and Dependable
RM1100 Excels in both Lab and Field

The Compact RM1100 Portable Data Recorder provides reliable data collection in challenging environments. A large 7-inch wide TFT LCD color touch screen display and refined GUI are ideal for quick Setup, Data Capture and Playback. Coupled with "Real Time", "Memory" and SD Card recording modes plus up to 1µsec sampling rate, the RM1100 handles the most demanding high speed applications. Recording to SD Card or PC via Ethernet ensures long time continuous recording. Waveform printing is available with optional thermal printer. This AC or battery-operated recorder with rugged casing satisfies your different requirements for Predictive Maintenance, Quality Control, R&D, Automobile Driving Test and remote-controlled data acquisition.

Brochure (PDF 2,8 MB)
Manual (4.65MB)
Software Download
Maintenance Period
Features
Built Tough
Shock and drop resistance withstanding continuous vibration environments such as on-board vehicle tests (MIL-STD-810E 514.5C-1)
Wide operating temperatures: - 20℃ to +60℃ (-4°F to +140°F)
Compact & rugged case endures dusty and humid environments
Measurement Capability
Three measuring modes: "Real-Time" (Paper), "Memory" (Snap-Shot) and "Filing" (SD card storage)
High speed recording up to 1µs (1MS/s) to Memory or SD card
Long term recording to SD Card, PC or optional thermal printer
Signal Input up to 8 Channels
4 or 8-ch Voltage & Temperature & 4 or 8-point Logic signals
Excellent Portability
Long term continuous operation with rechargeable batteries
Can also be powered with 12 ~ 24V DC (vehicle) as well as AC
Lightweight (approx.1.5kg/ 3.3lbs) with full feature measurement capability
Outstanding Usability
Dynamic waveform display on 7" wide & large LCD
Touch-screen with GUI offers easy operation
Shock Resistant Rugged Casing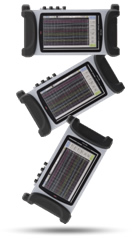 Small, lightweight instruments can be prone to be slipped off from workbench or dropped during field test and transportation. RM1100's good built-quality withstands harsh drop test (IEC60068-2-32 equivalent: 1 meter drop onto flat aluminium plate with the unit not being operated).*
Vibration Resistance Ensuring Stable Measurement for Automotive Testing etc.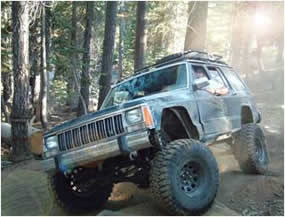 RM1100 conforms to U.S. standard MIL-STD810E 514.5C-1 that is often required or desired for vehicle tests and other applications.
Flipped Monitor Display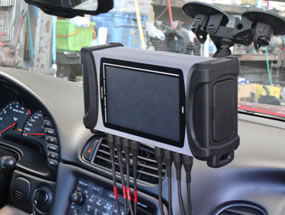 180° Flip Display mode allows RM1100 installed and used upside down with cables hooked up to the bottom.
A flipped screen secures flexibility in connecting cables to suit the location where the product is installed. With optional mount (RM11-405), VESA standard display monitor arms, stands and brackets can be chosen for your installation.
Endurance in Dusty and Humid Conditions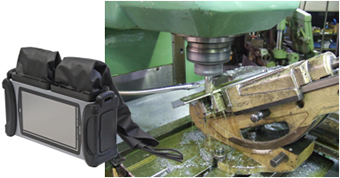 The product design is tested to comply with IEC60529 standard with optional splash-resistant cover (RM11-402) installed for input terminals, power supply and connecting cables. When adequately installed, RM1100 can be used in tough environments with dust or mist in the air.
Wider Operating Temperatures: - 20℃ to +60℃ (-4°F to +140°F)
The extended operating temperature range lets you take RM1100 to perform testing in hot or cold environments, such as in thermostatic chambers, a certain proximity to furnace or other heat generating machineries, warehouses and automobiles in summer and winter. When used in-vehicle, for instance, RM1100 can be booted up to start recording right away. (Test confirms continuous and normal operation at -20℃ and +60℃ and RM1100 kept at -20℃ for 60 min with no power supplied can be turned on and be operated properly.)
* The above specifications and tests don't guarantee failure-free or breakage-free performance.
Outstanding Usability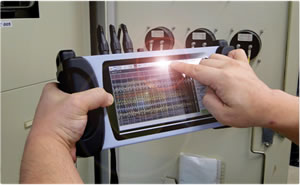 Dynamic waveform display on 7" wide & large LCD
Touch-screen with GUI offers easy operation
Signal Input up to 8 Channel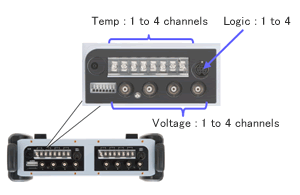 RM1102 : Max 8 channels (voltage/ temperature) + 8 (logic)
Screw terminals for thermocouples and insulated BNC terminals for voltage allow easy connection.
Specifications
type
RM1102
Display
7 inch TFT LCD display (800 x 480 dots)
Operation panel
Touch panel
Input (Channel)
Voltage/Temperature
8ch
Logic
8ch
Sampling Speed
("Memory", "Filing" mode)
with 1ch : 1MS/s (1µs) to 1S
with 2ch : 500kS/s (2µs) to 1S
with 3,4ch : 200kS/s (5µs) to 1S
with 5~8ch : 100kS/s (10µs) to 1S
with 9~ch : 50kS/s (20µs) to 1S
Trigger
Source Ch
8ch + Logic 8ch
Detecting Mode
OR, AND, OFF, TIMER
Kind of Trigger (Analog)
Level Trigger, Window
Storage Media
Internal Memory
2,000,000 data/ch
External Media
SD Card, corresponding to SDHC
Communication
Interface

LAN (10/100BASE-T)
RS-232C (for Thermal printer)

External Control Terminals
REC IN, Trigger-In, Trigger-Out, Mark-In
Operating Environment
Temperature/Humidity
Temperature: -20 to 60℃, Humidity: 35 to 80%RH
Vibration Resistance

compliant with MIL-STD-810E 514.5C-1
10Hz to 500Hz, Random wave 1hour each to X, Y, Z directions.

Dust-proof / Splash-proof Construction
IP41(IEC60529) when optional RM11-402 Splash-resistant cover is used
Power Supply

AC adaptor: 100 to 240V AC (50/60Hz) (with AC adaptor)
DC power: 12VDC (with power cable: 12 to 24V DC)
Battery: AC adaptor is prior to battery operation

Other Specifications
Multiple Language menu
10 Languages (English, French, German, Italian, Japanese, Korean, Portuguese, Spanish, Simplified Chinese and Traditional Chinese)
Timer Function
Start time, end time and interval can be set.
Reverse Display
Provided
Save/Readout of Settings
Measuring conditions can be saved--Internal memory: up to 4 conditions, SD card: up to available storage space.
Screen Image Saving
Save screen image on SD card at BMP format (colored)
LCD Monitor Brightness Control & Off
Provided
Reading values between cursors
Max, min, average, p-p, RMS
Key Lock
Provided
Multiple Measuring Modes
Select from 3 measuring modes—'Memory Mode' for saving fast events, 'Filing Mode' for saving data for long periods of time on an SD card, and 'Real-time Mode' for printing out waveforms using an external printer.

Memory mode
Data is saved to built-in memory (2M data/channel) at a maximum speed of 1µs (1M samples/second). Measured data is displayed, printed with an external printer, or saved on a SD card.
Memory Recording Times

| Sampling speed | Memory (2M samples) |
| --- | --- |
| 1µs | 2sec |
| 2µs | 4sec |
| 5µs | 10sec |
| 10µs | 20sec |
| 20µs | 40sec |
| 50µs | 100sec |
| 100µs | 200sec |
| 200µs | 400sec |
| 500µs | 1000sec |
| 1ms | 33min18sec |
| 2ms | 1hr6min40sec |
| 5ms | 2hr46min40sec |
| 10ms | 5hr33min20sec |
Filing mode
Filing mode provides long-time data saving to an SD card. Record data at fast sampling rates up to 1μs (1M samples/sec) with 1 channel or 10μs (100K samples/sec) simultaneously with eight (8) activated channels. This feature is excellent for high speed and long term continuous recording as well as post-measurement analysis.
Maximum Recording time to SD card
Sampling speed
8GB capacity
With 1 channel
With 8 channels
1µs
1hr11min
-
2µs
2hr23min
-
5µs
5hr57min
44min44sec
10µs
11hr55min
1hr29min
20µs
23hr51min
2hr58min
50µs
2d 11hr39min
7hr27min
100µs
4d 23hr18min
14hr54min
200µs
9d 22hr36min
1d 05hr49min
500µs
24d 20hr31min
3d 02hr33min
1ms
49d 17hr02min
6d 05hr07min
2ms
99d 10hr05min
12d 10hr15min
5ms
248d 13hr13min
31d 01hr39min
10ms
497d 02hr27min
62d 03hr18min

* Above Recording times are for Sampled data. Recording times are doubled for Peak data sampling.
Real-time mode
Real-time recording mode allows acquired data to be sent directly to an external printer. Waveforms are shown on the color display screen using graphical pen tips. The chart paper speed may actively changed during recording using the touch screen.
Specifications:
Chart speed : 10mm/sec to 1mm/min
Recording Division : 1, 2, 4 divisions
Printing Density : 8dots/mm (time axis; horizontal)
8dots/mm (waveform axis : vertical)