Product
WFS
Wheel Force Sensor
The main objective of the sensor is to capture/recognize the facts.
WFS, created by the MBE (Model Based Engineering) concept, will present all the facts before your eyes.
- 6-Component Wheel Force Output
(Real-time calculation from distributed force/moment measurements)
- Independent Output Compensated from Tire Uniformity
(Uniformed tire characteristic is extracted from measured 6-component forces/moments in real-time.)
Four(4) Key Phrases for A&D-DSP are [Real-time Simulation] [Model-base] [Torque Demand] [Model Identification]. WFS is an epochal sensor utilizing three(3) of the above four(4) Key Phrases, [Real-time Simulation] [Model-based] [Model Identification], and brings a realization of Torque Demand. This sensor enables your dreams to become a reality, and expands your horizons towards future development.
Super Resolution: 6N 1/4000
Application of Balance Technology
Synthesized Distributed Force Measurement Technology
There is a weighing surface on a scale. It has been adjusted to indicate the same weight regardless of position on the scale. Compensation is made so that only the forces are measured by eliminating moment components. Elimination is realized if a value of more than 1/300,000 is detected. It can be used as a moment measurement tool by eliminating weight components. WFS is designed as an extension of 3-component weigh scales.
Elimination of Moment Components
For the small weigh scales, the compensation of moment is accomplished by modifying the shape of the load cell. For the larger weigh scales, where 4 to 8 load cells are utilized, compensation of moment is accomplished by synthesizing distributed force measurements for each load cell. With WFS, 8 distributed forces are precisely measured, and 6-component calculation is performed in real-time.
Load Cell
The target is placed in the center.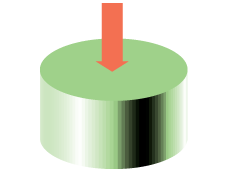 Balance
The target can be placed anywhere.

Modeling Technology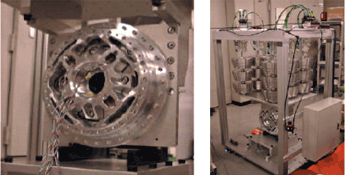 A specially developed calibrator can model the errors, and formulate a "components synthesizing matrix".
The calibrator is calibrated with the traceable weights in 1/50,000 or better accuracy. 6-component forces and moments are applied simultaneously to 8 load cells embedded in the WFS. The errors of the sensor are formulated in a model by obtaining a correlation between the applied forces and distributed force measurements from embedded load cells. By implementing the inverse of this error model as a "components synthesizing matrix", 6-component forces and moments can be precisely measured.
A&D-DSP Technology
Formulation of "Components Synthesizing Matrix" (Simulink Model)
The WFS controller is engineered on the basis of A&D-DSP (Digital Signal Processing) technology utilizing MATLAB/Simlink-TM model. This enables the real-time calculation of the components synthesizing matrix, coordinate transformation, selective harmonic filtering and tire uniformity offset.
(Note: Latest configuration is being updated.)

High-speed Response 1 ms
High-speed Processing
Pentium M, 1 GHz Processor
Utilization of A&D-DSP system to the WFS Transducer enables high-speed modeling calculation, makes the addition and/or modification of models easier and offers expansion possibilities.
High-speed ADC (Analog to Digital Converter)
16-bit ADC with angle-based sampling at maximum speed of 100 kHz, simultaneously on 8 channels.
Utilizing an encoder pulse as a trigger, simultaneous 8-channel sampling is performed while coupling the individual load cell output with angular position data. The angle-based processing minimizes digitalizing errors during data acquisition. The maximum sampling rate of 100 kHz allows seamless real-time measurements against all angular positions at vehicle speed of over 250 km/hr.
Ultra-high Resolution Angle-based Data Acquisition
Angular Resolution of 0.35 Degrees (with 1024 pulses/Revolution Encoder)
The sampling is done at a rate of 1024 points per revolution, enabling the execution of nth-order processing calculation up to 511th-order, which allows the elimination of errors very effectively.
Tire Uniformity Offset Function : (Selectable)
The tire uniformity properties are logged in advance by rotating a WFS-mounted wheel approximately three revolutions. Then the 6-component tire uniformity data against all angular positions can be mapped in a matrix for real-time offset compensation during the measurements. Therefore, independent 6-component force/moment output can be obtained without tire uniformity effects.
High-speed Data Storage : 1 ms
6-component Synthesizing Calculation and Data Storage
Data size beyond 1 ms can be stored by changing to Data Storage Priority mode.
Light Weight
Sensor Weight : 3.2kg
Application of Load Cells Developed for the Balance Technology
Light Weight, Rigid, Made of Special Duralumin
High Resolution, Elastic Body Structure
Realization of High-capacity, Light Weight, High-stiffness by FEM Analysis
Digital Data Links
Enables the establishment of simultaneous communication with embedded measurement system in digital data format (CAN、Ethernet)
Since it adopts A&D-DSP system as a controller, it can be linked with embedded measurement system in the car via industry standard communication tools such as CAN and Ethernet.
Enables the connection with embedded RPT Simulink model (Multi-node)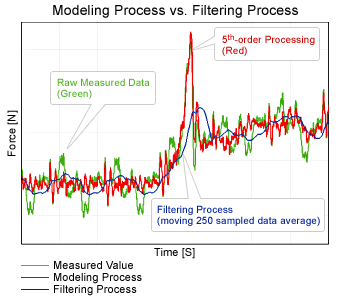 Based on conventional analog technology;
Selection of filtering characteristics is very limited in analog technology.
The applied filtering affects both noise and signal components equally. Consequently the signal is deteriorated.
With Model Based Sensor;
The effective signal can be retained logically by selecting an appropriate filter. The following are some examples;
Selective harmonic filtering; you can pre-set nth-orders of filtering against revolution signal. (1st-order, 2nd-order, 4th-order, etc.)
At a very slow speed, almost stationary, the sampling mode can be changed from an angular based sampling to a time-based sampling.
When the vehicle stops, the value of Fx offset becomes unstable. The WFS controller makes it easier to obtain accutarte Fx0 readings by correlating it to My values.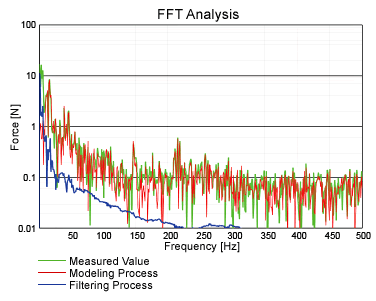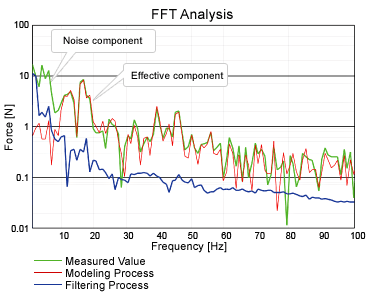 in the analog filtering process, the harmonic frequency information above Cut-Off frequency is equally detuned. In the modeling process, it can process both noise and effective components in the harmonic frequency signal independently.
WFS Specifications
Sensor
Rated Capacity
Fx=24 KN, Fy=15 KN, Fz=24 KN
Mx=4.5 KN•m, My=4 KN•m, Mz=4.5 KN•m
Weight(Tire+Sensor)
22 kg (for the tire size 215/60 R16)
3.2 kg(Sensor part)
Temperature Compensation Range
-10~80 ℃
Zero Effect
0.005 %RO/ ℃
Span Effect
0.005 %/ ℃
Revolution
2000 RPM
System
Data Output Time Cycle
(Compensation calculation processing time is a part of Time Cycle)
1ms
Resolution
| | |
| --- | --- |
| Load | 6N(1-4000) |
| Torque | 1.8N•m |

Isometric Drawing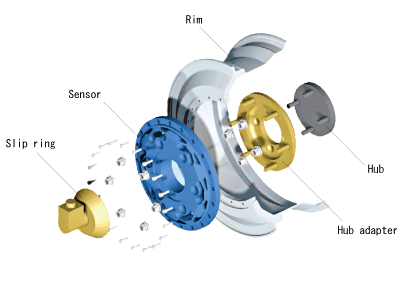 WFS Display Screen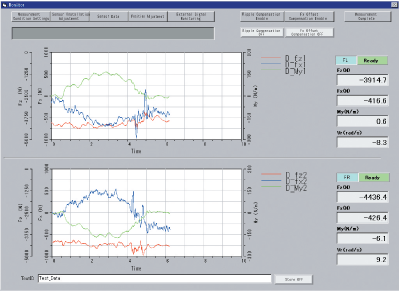 The sensor can be customized to meet your requirements. (Rating, Resolution, Double Tires, etc.)
Tilting Position Sensor (Under development)
Can be applied to Wind Tunnel (Weight balancing type)